This post may contain affiliate links. If you use these links to buy something we may earn a commission. Read our full disclaimer here. Our opinions are not affected by affiliates and are our own.
In this review, we'll be taking a look at Snibbs Shoes. Are they good for nurses? Should nurses be wearing these shoes?
We've taken a look a quite a few of the best nursing shoes by now and pretty much found that the gold standard depends on where you work. Nurses on the floor might wear different shoes than nurses working in the operating room (Best Shoes for Operating Room Nurses).
However, there are a few aspects that all nursing shoes must have; comfort, durability, and cleanability. Without these features, you probably won't get very far.
So, do Snibbs Shoes have what it takes to compete with some of the best nursing shoes? Let's get into it!
What Are Snibbs Shoes?
Snibbs were designed in-house by professionals that work in the restaurant and service industry. They sought out to not just design a work shoe, but completely rework the though process behind it.
Their goal was to create a shoe specifically for people on their feet all day. Sounds like that fits in pretty well with healthcare workers, and nurses specifically, huh?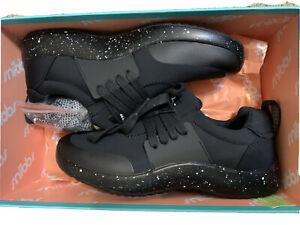 One of Snibbs' big goals besides comfort is durability. They use comfortable, but robust materials to significantly reduce wear and tear so you aren't constantly purchasing new shoes. For workers on their feet all day, this can make a major difference.
They also aim to have some of the best looking work shoes in the game. Do all work shoes have to be ugly? Well, no. Snibbs are actually very attractive and compete with some top brands such as Nike, while still providing a sturdy work shoe.
Snibbs for Nurses
So, what are Snibbs like for nurses? Well, actually really good! We were extremely impressed with Snibbs shoes and what they accomplished. But, we'll get into our full thoughts a bit later.
For now, what are the features that make them a good choice for nurses?
Features
As far as features go, Snibbs have a pretty wide variety of them. They cover a range of different areas that all combine to create a really resistant shoe (read the full list of features here).
Water-Resistant
They use a special breathable material with hydrophobic properties. It can be easily wiped off and feels really interesting to the touch. The material itself has almost a foam feel, but is extremely resistant to pretty much anything we've seen so far (even with salt + winter snow).
Anti-Slip (Slip Resistant) Sole
The rubber sole is marked by the Brungraber Mark II Test to ensure that it provides the highest level of slip resistance. In practical use we had no issues even when the floor was wet.
While we didn't get into any extreme fluids such as oils or grease, in typical hospital fluids they did fine.
Ortholite Insole
Snibbs partnered with Ortholite to create a double-molded multilayer insole. This insole helps with step-in feeling along with supporting your foot against fatigue and pain.
These insoles feel great. When you first put your foot into the shoe, you'll instantly notice the "memory foam-like" feel. While we can't say for the long-term durability of these insoles, short-term they are awesome.
They support your foot throughout an entire 8-12 hour shift, and show no real signs of fatigue.
Slip-On Design
One of our favorite features, as someone who changes their shoes at work, is the slip-on design. Snibbs shoes are extremely easy to slip-on and slip-off. It makes changing shoes very simple and easy to do even if you have other stuff in your hands.
While it might seem silly, at the end of a long shift, there's nothing better than being able to easily change your shoes.
Performance
So, when reviewing Snibbs, we're going to compare them to Clove shoes. While they aren't a direct "nursing shoe label" comparison, they're around a similar price with similar goals.
Style: From a style perspective, Snibbs look pretty good. For work shoes they look really good. However, when comparing them to other shoes (Nike Nursing Shoes), they can look a bit clunky.
We appreciate the speckles that add a bit of character. And, the simple color choices are nice to see. A few more colors might mix it up a bit. But, a lot of hospitals do have specific color codes, with the most popular being white or black.
Comfort: From a comfort perspective, Snibbs are very very comfy. Even after a long shift there isn't much foot fatigue and the Ortholite inserts seem to hold up very well. However, we did notice that these shoes are better for standing than they are for walking.
What does that mean? Well, when working in surgery (scrubbed in), they were awesome. When circulating and running around, they were still good, but not as good as some of the other options (Hoka One Shoes for Nurses). So, if you are in a position where you are on your feet, but do a lot of standing, these might be one of the best options.
Waterproofing: When it comes to waterproofing, cleaning and straight-up protecting your feet, we have absolutely no complaints. Snibbs shoes excelled at cleanability, protection, and maintaining a waterproof seal. This is easily one of their biggest attributes.
Final Thoughts
So, do we recommend you buy Snibbs Shoes as a nurse? Yes, however with one pointer.
If you're constantly walking during your shift, then you might want to look elsewhere. This is not a knock against Snibbs, but it's very difficult to accomplish comfort on several levels. They seem to be designed for workers who are on their feet all day, but not on-the-move as much. They work great as operating room shoes!
Other than that, we were very impressed with Snibbs shoes. They seem to be a fairly good value for the performance, price, durability and comfort. While we can't speak for long-term durability, from what we saw, there shouldn't be any issues. If protection of your feet is a big goal, then these shoes are a great option that we would recommend checking out!