This post may contain affiliate links. If you use these links to buy something we may earn a commission. Read our full disclaimer here. Our opinions are not affected by affiliates and are our own.
Graduating nursing school is one accomplishment not many other can say they have achieved and for that we compiled a list of the best nurse graduation gifts! These are also great gifts for nursing students as well.
Finding practical gifts for nurses isn't easy, but we came up with some ideas to get you started. These registered nurse graduation gifts, BSN graduation gifts and student nurse gifts.
---
Transitioning from a student nurse to a full time nurse can be scary, but having the support of friends and family can really help ease fears. Arming a nursing school graduate with the right equipment can show them you support them and give them the confidence to be successful in their career!
Some of the best graduation gifts for nursing students can differ depending on what unit they expect to be working on, but some gifts can definitely work for just about any specialty.
Nurse Graduation Gifts
What are the best graduation gifts for nurses? Well, we think that showing a nursing grad you care is easy by getting them something they'll use everyday!
Becoming a new nurse is a hard transition, so easing that in anyway can be a huge help!
Apple Watch Series 5
The Series 5 Apple Watch is a great option for a nursing graduation gift. Having a good watch is necessary for nurses for many reasons. The Apple Watch ticks a lot of boxes when it comes to necessities.
It has a fitness tracker, heart rate tracker, full app functionality, customizable faces (sweeping second hand, digital countdown), and notifications. The ability to see and respond to text messages and calls is something that nurses need. It helps you to see important messages when you don't have your phone or can't look at your phone.
Additionally, they have interchangeable bands so that you don't have to bring home a gross "germy" band. You can also fully submerge the Apple Watch in water allowing you to wash it thoroughly.
You can also find the Apple Watch Series 3 on sale for great prices right now.
New Shoes
SHOES! Nurses are on their feet all day long! Shoes are extremely important for any nurse or medical professional. Nursing shoes can make an amazing gift for any nursing student graduating nursing school.
READ: Guide to the Best Shoes for Nurses
We really took a liking to the Vessi shoes for their ultimate comfort, build quality and waterproofing. However, we did do a full list of the best nursing shoes, which would make some awesome graduation gifts for both male and female nurses.
Nothing says congrats like a new pair of kicks!
Scrubs
When you think of a nurse, you will probably see the typical "nurse image". Blue scrub top, stethoscope and a pen.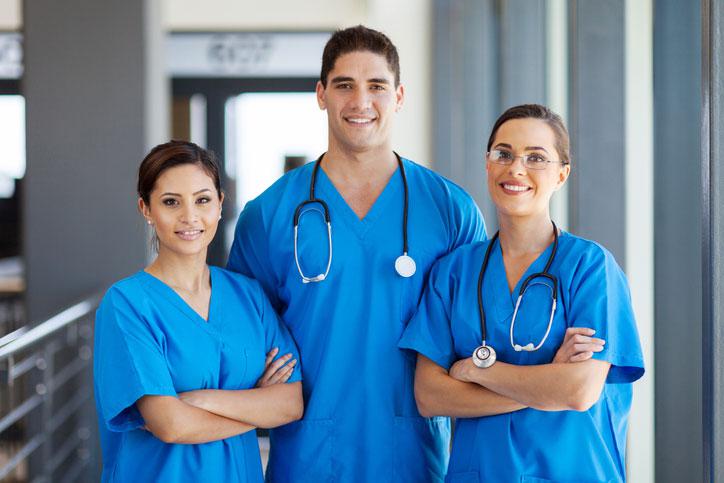 Now while this stereotype isn't true for every type of nursing, a lot of hospital nurses do wear these types of scrubs. Nurses' uniforms are part of their everyday lives. They help protect us from bacteria, protect patients from bacteria and help keep us comfortable when working for hours and hours at a time.
It's hard sometimes to buy someone scrubs, but what we do suggest is possible get them an Amazon gift card because Amazon has tons of scrubs at great prices.
Or if you do know their sizes, try FIGS Scrubs or Grey's Anatomy scrubs. They're, in our opinion, the best scrubs you can buy!
Unique Nurse Graduation Gifts (Fun Badge Reels)
Badge reels are those things that us nurses use to clip our badges to our scrubs. These make it super easy to swipe in and out of places, or badge into computers. These badge reels aren't that exciting, but there are some unique fun badge reels out there!
A great cheap (cost effective) gift for nursing students are badge reels. Badge reels are used by most healthcare workers to hold their badges. These are also used to hold other important information like normal ranges for lab values, or code algorithms.
We did make a list of unique badge reels, including Disney badge reels, Star Wars badge reels and other fun badge reels, but we'll go over some in this list as well that are unique and exciting! And a bonus, these are all under $20!
Stethoscope
Stethoscopes are one of the most important tools in a nurse's kit. They are used to check vital assessment information about a patient and are crucial in day-to-day nursing. That is why they are one of the best graduation gifts for nursing students and best nurse gifts.
Now you can't just get any stethoscope and call it a day! Most nursing students will have stethoscopes in nursing school, but they won't be the best-of-the-best. When it comes to stethoscopes, the best-of-the-best is Littmann.
There are a few other good options, but our recommendation, especially for a grad gift, would be a Littmann.
Littmann Classic III
Littmann Cardiology IV
Clip Board
Another great gift for any nursing student graduating nursing school is a clip board. It sounds kinda silly at first, but these are really popular among nurses right now!
This clipboard is metal and folds to allow for storage. They have cheat sheets on the back and are super handy to carry pens and pencils around in as well. They come in several fun colors and are a great option for a small graduation gift for nursing students!
A New Book
I think that reading is one of the best hobbies anyone can get into. Reading increases knowledge in so many ways it is incredible! One awesome gift for nursing school graduates is a book!
There are several books on becoming a new nurse, nursing in general or millions of completely unrelated books. If reading a full book isn't your graduate's forte, then there are also some pocket books to help out nurse's on the floor.
Another awesome way to start off is audio books! They're super easy to listen to while doing other tasks and very informative. Audible has a free trial for anyone interested.
Gift Cards
Gift card are a great gift for any student nurse graduating nursing school. They are awesome because you can spend as much or as little as you want while still saying that you care.
A few great options are:
Starbucks
Walmart
Target
Amazon
A local restaurant
Movie theater
Visa gift card
Nurse Graduation Gifts for Her
If you want to find that perfect gift for your graduating nurse. Whether it's a nurse graduation gift for your daughter or girlfriend or wife, these are meaningful.
In addition to a nice jewelry, you could get your graduate some nursing tech-gear! There are even some great options for Apple Watches under $200. Why does an Apple Watch make a great nurse graduation gift? Well, we use our watches all the time. We also cannot normally be on our phones. It helps a lot to have access to notifications in case of emergencies or other reasons.
An Apple Watch is a great graduation gift for a nurse. Nurses use watches on a daily basis, especially for important nursing tasks. Many tasks involve keeping time or counting things which can be vital to seeing how a patient is breathing. Having a good watch is important and an Apple Watch will give nurses live updates if they can't look at their phone.
Gift for Nursing Student Graduation
If you're still looking for good gift ideas we have a few other lists that we have posted that might just have that personalized nurse graduation gift you're looking for!