This post may contain affiliate links. If you use these links to buy something we may earn a commission. Read our full disclaimer here. Our opinions are not affected by affiliates and are our own.
What are the best Hoka shoes for nurses and healthcare workers? My Hoka top pick for nurses and healthcare are the Hoka One One Bondi shoes. They provide exceptional support, and are quite durable.
However, in this review I'll be going through all Hoka's offerings, and which ones you should look at!
If you haven't heard of Hoka One shoes, then I'm happy that you are here. These are some of the most comfortable nursing shoes (that aren't actually nursing shoes), I've ever worn. For hospital workers, they are popular due to their large support bottoms that help you if you're on your feet all day long.
Why are Hoka One One shoes perfect for nurses? Well, we'll get into that, but basically it's because they're infinitely comfortable.
Hoka One One came from two people in Sweden (source), and they set out to create the best running shoes that they could. They use the best materials, highest quality engineering and no-compromise design.
So, should nurses be wearing Hoka One One shoes? Let's get into it!
What Are Hoka One One Shoes?
HOKA shoes were originally created as a no-compromise running shoe. Since, they have established themselves as one of the premier brands for athletes.
In addition, HOKA is huge on promoting good practices in life. They claim that these practices stem from a healthy active lifestyle. From healthy choices, comes better choices within everyday life as well!
Coming from founders Jean-Luc Diard and Nicolas Mermoud, HOKA One One is a brand that will most likely continue to impress runners and athletes for years (read more).
However, recently there have been a lot of nurses talking all about HOKA One shoes. Why? Because, for nurses, HOKA shoes check a lot of boxes.
When it comes to some of the best nursing shoes, you might think of brands like Nike or Dansko, but this new brand might be coming for top spot.
Why Hoka One One Shoes are Good for Nurses?
Hoka's are a good choice for hospital workers and nurses who are on their feet all day. Additionally, they provide well-balanced support when standing in one spot for a while.
For nurses who work on the floor, in the operating room, or really any other active roles, Hoka's are an awesome choice. But, don't just take my word for it, these are some reasons why they are a good choice.
1. The Way They Are Made
Hoka One One shoes are made with special intentions in mind. Their original design is to make running easier. How do they achieve this? They use a a lot of technologies that Hoka claims make a big difference in the fit and feel of their shoes.
2. Cushioned Midsole
The first portion of technology that goes into Hoka shoes is their cushioned midsoles. These midsoles have marshmallow softness and provide you with an extremely cushioned step.
The midsoles provide shock absorption, comfort, and support each step with varying degrees of thickness. You can choose from 3 different cushions: responsive, balanced or maximal. For nurses, we really like the maximal cushion, especially if you're on your feet all day!
3. Meta-Rocker
The meta-rocker is described as the wheels to move you forward. Mostly for running (or walking in that case), the meta-rocker helps propel your natural gait cycle.
In addition, it reduces the height difference between your heel and toe for a more natural, supportive and comfortable step. You can choose between a late-stage or early-stage meta-rocker.
4. Active Foot Frame
If you've ever seen a race car seat, they have bucket seats. These are seats that keep you held in place. So, why wouldn't you want that for your foot?
Hoka's Active Foot Frame is a bucket seat for your foot. It cradles your heel and embeds the foot securely into the midsole. This helps when you're running especially, but when walking it also provides some serious support. For nurses who are on their feet all day, this really helps give you that extra bit of help.
5. Profly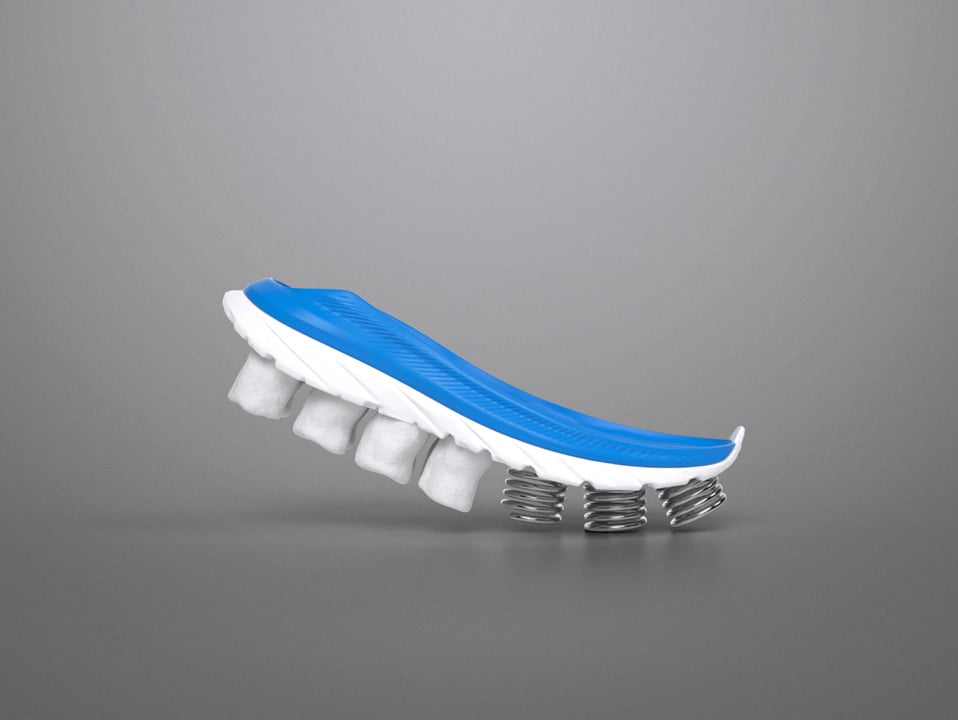 Profly is Hoka's cushioning technology. They call it intelligent cushioning because it gives you a soft and snappy stride. The two-part midsole provides cushioning on the landing, with a snap back when you lift your foot.
6. Carbon Fiber Plate
The carbon fiber plate that is inside Hoka's shoes gives you a propulsion when in-stride. It's design allows for the plate to curl under your toes to deliver a smooth transition throughout the gait cycle.
Hoka One One Shoes for Nurses Review
So, how do Hoka shoes perform for nurses? Are Hoka shoes good for nurses and healthcare workers? Yes, if you're a nurse looking for some of the best walking shoes, then you have found them!
When it comes to being on your feet, Hoka shoes provide excellent comfort, support and spring-back. They really do help your natural-gait feel more simple and comfortable.
During a step, you compress your foot down onto a very very cloud-like massive layer of foam. Then, we bringing your toe-to-heel back up to continue with your stride, the foam springs back to help propel your foot forward. It is a similar experience to getting a new pair of shoes every single time you put them on.
The laces are fairly simple to tie and seem to be high quality. Other materials used in the shoes also feel premium and like they will last a long time. A lot of nurses wear Hoka shoes for indoor use only, however if you wore them outside on a daily basis they still should hold up well.
Additionally, even though Hoka shoes aren't marketed as "nursing shoes", they do function well as such. They aren't "waterproof", but you can waterproof them with some waterproofing spray. And, they aren't meant to be rock-hard durable, but the materials used seem to have a fair amount of protection.
Finally, Hoka gives you a solid amount of color choices so that you can match however you want to! They also have simple colors such as white, black or gray to go with any of your hospitals uniform policies.
Best Hoka Shoes for Nurses
What are the best Hoka One One shoes for nurses? Well, in our opinion the Men and Women's Gaviota 2 Walking Shoe is one of our top choices along with a few others.
Nurses who are on their feet all day need good supportive shoes. We've talked about some of the best shoes for nurses before, however those are targeted on making everyone happy.
With Hoka One One shoes for nurses, they provide basically one feature, and they do it extremely well. They are unbelievably comfortable for working all day on your feet.
Hoka One One Men's Bondi 6 Running Shoe
Hoka One One Men's Gaviota 2 Walking Shoe
Hoka One One Women's Gaviota 2 Walking Shoe
Hoka One One Women's Clifton 6 Running Shoe
Why Should Nurses Wear Hoka One One Shoes?
In conclusion, why should nurses be wearing Hoka One One shoes? Are they good shoes for nurses?
In our opinion, absolutely. The Hoka shoes are awesome for nurses on their feet all day and really provide the support that we need. If you work in a nursing area that requires to work on your feet (which is most of them), then you need to try these shoes out.
While they aren't very waterproof, you still can make them waterproof with some simple spray. And, they do still provide a pretty good amount of protection against anything falling onto your feet.
In the end, especially if you work the operating room, procedural area, or any other nursing area that requires a lot of walking Hoka One One shoes are awesome. They are extremely comfortable, but mostly provide excellent support. Support is important in not only maintaining your posture, but also plays a huge role in your overall health.
1-Year Hoka One One Shoe Update (12-Hour Shifts)
How have Hoka's held up after 1 year of continuous use in the operating room? Well, they have done fairly well. Let's explain.
Firstly, the outer material has held up really well. It doesn't have a ton of ware noticeable on the outside. However, the inside is a different story. The inside of the shoe is pretty beat up, with the rear heel portion being the worst.
While the interior materials didn't hold up that great. The mid-sole and actual cushioning portions of the shoe are holding up really well. They are still just as comfortable and springy as brand new.
In conclusion, I'd still highly recommend Hoka shoes for nurses. They are excellent for walking around and doing the typical day-to-day tasks of a nurse. I used them as my operating room shoes for over a year, and was impressed with how well they held up.
While there were a few materials and areas that were worn out, that is to be expected of a shoe worn as much as it was!