This post may contain affiliate links. If you use these links to buy something we may earn a commission. Read our full disclaimer here. Our opinions are not affected by affiliates and are our own.
A charge nurse is a registered nurse (RN), that has special responsibilities on a hospital nursing floor or other healthcare facility. These nurses are similar to nurse managers, but can also differ in many ways.
If you're interested in becoming a charge nurse, we'll go over some ways to get there!
Charge vs Nurse Manager
A charge nurse is a nurse (RN) that has special responsibilities in addition to the regular responsibilities of a floor nurse. Typically floor nurses will have a patient assignment (2-5 patients) and they will be responsible for those patient's care for a 12-hour shift.
In my experience each floor will have a nurse manager and a nurse in charge for the shift. Occasionally floors will have more than one nurse manager or several assistant nurse managers to help when the primary nurse manager is not on the floor.
Charge Nurse vs Nurse Manager: Differences
Nurse managers usually will not take a patient assignment and will be focused on running the floor. They might handle more "business" aspects of a nursing floor. These business responsibilities could include budget management, hiring new employees, and regulating staffing. In addition, nurse managers can help with patient care or take assignments if it is an especially busy day (typically ER or ICU). They also might help a nurse start an IV or insert a Foley while that nurse is handling other patient. Some nurse managers won't even wear scrubs and will wear business casual attire.
---
Charge nurses are similar to nurse managers because they are "in charge", but they don't have the same business responsibilities. These types of nurses most likely will not be managing the budget or hiring new employees. They might have some input, but the final decision is still the nurse manger's. Additionally, it is more likely for a charge nurse to take a patient assignment than a manager.
A charge nurse will be responsible for making sure the other floor nurses don't need help, calling doctors if needed, and providing other "floor services" that a nursing manager won't. Charge nurses will also delegate tasks, make some schedules, and oversee any admissions or discharges on the floor.
Charge Nurse vs Nurse Manager: Similarities
A charge nurse and nurse manager are very similar in many ways. They each are usually seasoned, well-educated and experienced in not only nursing, but the specialty where they work.
Charge nurses and nurse managers must have:
A nursing license (RN)
Ability to provide direct patient care
Ability to move, care for and lift patients
Responsibility managing ancillary and vital staff on the floor
Ability to monitor ECGs, vitals and other monitoring equipment
Ability to communicate, guide and provide support to other nurses or nursing aids
Ability to assess critical situations and provide solutions
How and Why Try to Be Charge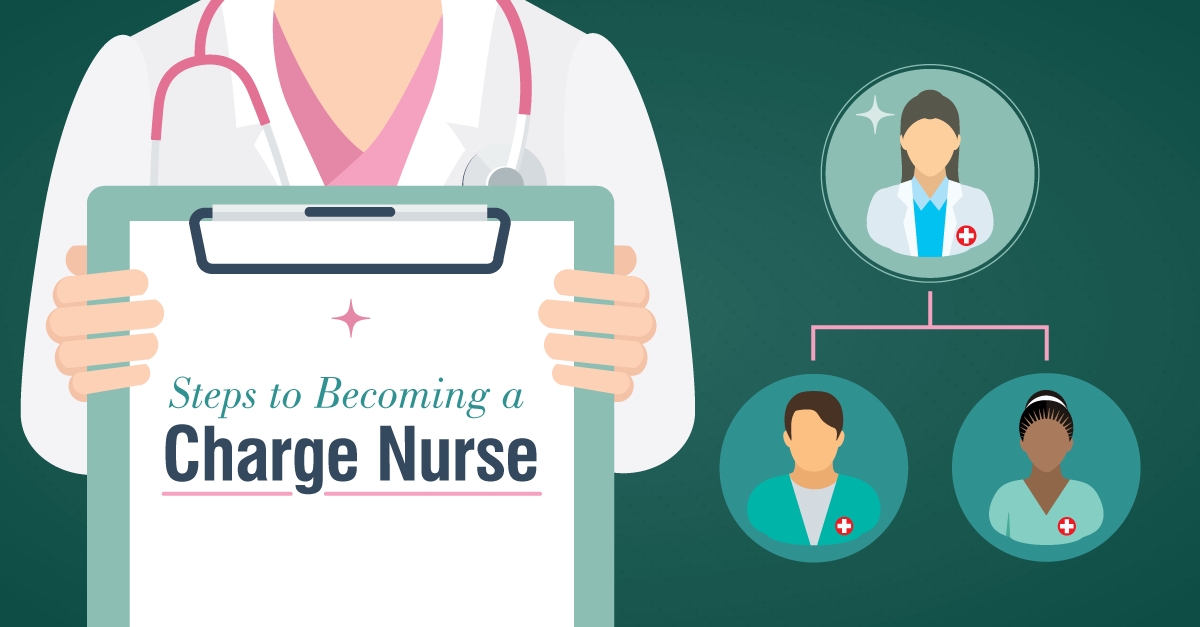 The first step should be quite simple: finish nursing school. A charge nurse is a registered nurse and in order to become a RN, you need to graduate from nursing school. Once you have finished nursing school, you would most likely get a job on a floor or specialty that you're interested in (ICU, MedSurg, Surgery, Labor & Delivery, etc.).
You will need a BSN (Bachelor's of Science) degree or MSN (Master's of Science) degree to become any type of nurse. But, nurses with a Master's degree might stand out more than one with only a Bachelor's. You most likely will need several years of experience as a registered nurse, usually more than 2 years of experience is recommended.
You won't need any special certifications or credentials to be in charge, but as a nurse you're expected to hold the basics. These include, BLS (basic life support), PLS (pediatric life support), PALS (pediatric advanced life support), ALS (advanced life support), CPR, or any other Board Certifications for specialties.
---
Why should you become a charge nurse? Well, there are several reasons. The most prominent being the experience is great if you wish to attend graduate school. There are also monetary benefits to being a charge nurse. Charge nurses, on average, earned $68,000 per year ($34 per hour). Some even earned as high as $90,000 ($45 per hour) a year.
Conclusion
You also might want to train to be one because you're a great leader. This is a fast-pace leadership position and is definitely rewarding for those types of nurses. These nurses are highly skilled and are in-demand. Being a in charge requires you to have a blend of experience from many different backgrounds. In addition, it is also great to experience managerial aspects of nursing along with technical aspects.
Become a charge nurse is an excellent choice for anyone who wants to take that "next step" forward in their career or advance their skillset further.